In this section we showcase a high security alarm system with audio and video confirmation. Whatever your need is, Alarme Provinciale will be able to meet your demands with an alarm system custom designed for you.
Insight
Welcome to the first alarm system that integrates, in a motion sensor, high definition surveillance camera and a microphone. This new system allows us to offer video and audio confirmation of alarm trigger, or simply remote viewing of your business / home via your smart phone.
In other words, if your alarm is triggered by motion detection, we automatically receive at our central station video images by the detector at the exact moment the detection occurred; allowing us to confirm that the alarm is founded and immediately notify the authorities, supporting images in hand.
With this system, you can also view real-time images coming from the motion detectors installed in your premises thru smartphone, and listen to what is happening at any time, even when you are not on the premises.
Here is the list of our products:
TM50
The TM50 Paradox is our key color-touch screen interface of 12.7cm (5 inches), the most stylish on the market.
Its user interface was thought in every detail to offer you unparalleled ease of use. With its slim and stylish design, the TM50 will marry any decor.
Display of indoor temperature and optional outdoor temperature;
Multiple choice of languages including French, English and Italian.
Your favorite pictures can be uploaded to the micro SD card enabling you to use them as a slide show.
The TM50 is available in Pristina White or Black Piano Gloss.
Documentation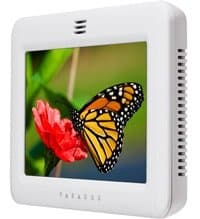 InSight Application
Images live from your home or your business right at your finger tips. Take pictures of the images you see, route them via text message, really this is the state-of-the-art in interactive security.
Motion Detector with built-in Camera and Microphone
The HD77 from Paradox is the first of its kind. This is high performance infrared motion detector that combines HD video camera and microphone.
Resolution 720P
Connects in parallel to your computer network (with highly secure 128-bit AES encryption), and to the EVOHD alarme system
Unlimited viewing and recording
Images instantly sent to our centrale station in case of detection
Secure all your sites and view them from one InSight app