An alarm system in Terrebonne with Provincial Alarm
For an absolute peace of mind, an alarm center that is always present and a service available 24hrs, Provincial Alarm is the company to contact for the installation of a residential
alarm system
in Terrebonne. With more than 25 years of experience in residential andcommercial security, our goal is to protect your home, cottage or business with high-performance alarm systems, without false alarm and easy to use. We protect our premises with the same alarm systems we offer, so we believe in our products and we know each of the features. Thanks to our volume of purchases, we are able to offer you an alarm system for your home at a much better price than our competitors, and this in reputable Canadian brands like Paradox and DSC.
All of our alarm systems are equipped with Bosch motion sensors insensitive to animals
under 19Kg; A pet version of less than 45Kg is also available. Bosch motion sensors are the most efficient on the market with unmatched detection speed and no false alarm.
With the installation of any alarm system, we offer you the free alarm center for 12 months.
After that, if you want to keep the monitoring, it will cost you only $14.95 per month and this package includes the extended warranty of your alarm system as long as you are connected to our monitoring station.
Our alarm plant is ULC/LAC-approved and is recognized by Canadian insurers. Our plant staff is specifically trained to offer you a quality, bilingual and courteous service. Provincial Alarm holds a security agency permit with the Office of Private Security, which certifies that our staff is free of any criminal record and that our company is serious and professional. We are also a member in good standing of the Canadian Safety Association.
Our team has more than 27 years of experience in the security system, and this experience guarantees you a professionally and aesthetically installed home alarm.
Do not purchase an alarm system from another company without having previously made a non-binding bid
by Provincial Alarm. In many cases, we are between 25 and 35 less expensive than our competitors and we install better quality products. No matter what your budget, we have the alarm system for you.
On the other hand, if you already have an alarm system at home and want to link it to a professional alarm plant, please be aware that our monitoring centre is compatible with all alarm systems on the market.
We offer you three months of free power plant in the first year and our plant contract is for a duration of 12 months, renewable auto from year to year. With us, you don't have to sign a long-term contract.
You can reach us by calling (514) 324-2012 or by email info@alarmeprovinciale.com.
A residential alarm system is for decades.
Recognized in Terrebonne as one of the best alarm system installation companies, Alarm Provincial sells only the best products available, while encouraging local products designed and manufactured by local workers.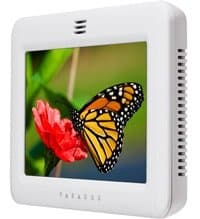 We are retailing Paradox alarm systems as well as DSC alarm systems. These two brands, made by Canadian 100, offer keyboards with a neat appearance that blends with all décors. They are easy to use and at the touch of a button, you can choose between a full armament (when you are away) or partial (when you are at home) in order to be always safe at home.
Purchase an alarm system for your home in Terrebonne by consulting provincialalarm experts at (514) 324-2012. Your satisfaction is guaranteed!